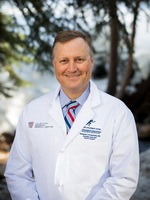 Captain Matthew T. Provencher, MD MC US, joined The Steadman Clinic and Steadman Philippon Research Institute in 2016. He attended the United States Naval Academy, where he graduated with Distinction. He was also inducted into Phi Kappa Phi (The National Honor Society), Tau Beta Pi (The National Engineering Honor Society), and Sigma Pi Sigma (The National Physics Honor Society). He completed his medical education at Dartmouth Medical School, where he graduated with honors and was elected to the Alpha Omega Alpha Honor Society.
Dr. Provencher completed his orthopaedic residency at the Naval Medical Center San Diego and his orthopaedic surgery fellowship in Chicago at Rush University. A prolific researcher, he has received numerous academic and research awards,including the International Society of Arthroscopy, Knee Surgery and Orthopaedic Sports Medicine (ISAKOS) Science Award; the ISAKOS Richard Caspari Award and the American Orthopaedic Society for Sports Medicine (AOSSM) Aircast Research Award. He has received numerous peer-reviewed grants from funding agencies, using these funds to establish programs for studying musculoskeletal outcomes, value-driven care and mechanics and basic science studies on the shoulder on knee.
CAPT Provencher served as an orthopaedic surgeon at the Naval Medical Center San Diego from 2004 to 2013 and was Director of the Sports Medicine and Surgery program from 2007 to 2013. As the Head Orthopaedic Team Physician for Navy Seal Teams 1, 3, 5 and 7, he was instrumental in setting up the Special Forces Tactical Athlete Program (TAP)–a comprehensive wellness, injury prevention and rehabilitation program for Naval Special Forces. In addition to his military orthopaedic duties, CAPT Provencher performed extensive Humanitarian and Disaster Relief work. He continues his duties in the Navy as a Reservist.
After fulfilling his Navy obligation in 2012, Dr. Provencher became the Chief of Sports Surgery at Massachusetts General Hospital, Visiting Professor of Harvard Medical School, and Medical Director and Head Team Physician for the New England Patriots football team. He was the Medical Director of the Patriots during the 2014 Super Bowl Championship season and pioneered a wellness and injury prevention program for the team. He also serves as a second opinion orthopaedist for the NFL, MLB, and the NHL.
Dr. Provencher was elected into the prestigious Herodicus Society in 2010. In 2017, he was honored with the Colonel Brian Allgood Award, which is the most significant leadership award given by the Society of Military Orthopaedic Surgeons (SOMOS).
Dr. Provencher was nominated to The Board of Directors for AOSSM from 2011-2013. He serves on numerous national and international committees, the Arthroscopy Association of North America (AANA) 2014 Program Director, as well as the Co-Director of the San Diego Shoulder Institute Annual Meeting. He is on the Board of Directors for AOSSMM, AANA, SOMOS and serves as the Exhibits Chairman for the AAOS (American Academy of Orthopaedic Surgeons) Annual Meeting. He is also chairman of the AOSSM Research Committee, Program Director for the AOSSM 2018-2019 meetings, and Chairman of the AANA Education Committee. Dr. Provencher was the Assistant Editor-in-Chief of the Arthroscopy Journal from 2012-2018. He is an active member of numerous surgical associations.
Dr. Provencher was recently named one of the Top 28 Shoulder Surgeons and Top 28 Knee Surgeons in the United States by Orthopaedics Today. He is recognized by Becker's Orthopaedics as "One of 59 Great Orthopaedic Surgeons." His research includes over 264 peer-reviewed publications and articles, 148 chapters, and six textbooks. He has given over 500 peer-reviewed and invited national and international presentations in the realm of sports medicine and leadership.
Dr. Provencher resides in Edwards, CO with his wife and four children.
https://matthewprovenchermd.com/
https://www.thesteadmanclinic.com/our-doctors/matthew-t-provencher